Kittu Very Mad Day Book Launch – At Kitab Khana – Fort Mumbai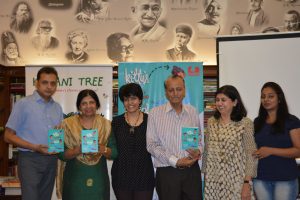 Book Launch – Kittu's Very Mad Day – Harshikaa Udasi
Chapter 1 Skit of Kittu's Very Mad Day!
About Harshikaa's first book – Kittu's Very Mad Day
The book tells the story of 10-year-old Kittu who is physically disabled. The absence of a leg however has dulled neither his natural wit nor his acerbic tongue. So when this young lad gets lost in Madhya Pradesh near Janwaar, it's the perfect recipe for adventure! Throw in a chaotic family with a loud but super loving bua, a remorseful father and a bunch of no-good cousins and the journey promises to be more rewarding than ever. But wait! What's this in Janwaar? A Mad girl, her zapped parents and a skate park?!! Is this the place for Kittu to realise his dream?
@MAMI: Kittu's Very Mad Day was among the 15 books of 80, shortlisted for pitching to eminent producers and filmmakers, at the Mumbai Academy of Moving Images' (MAMI) Word to Screen Market 2017.
@Singapore: The Da Qiao Primary School  of Singapore has picked up Kittu's Very Mad Day as classroom text for its kids of grades 3 and 4.
SaveSave
SaveSave